PERAN MEDIASI REPUTASI PADA HUBUNGAN PENGUNGKAPAN CSR TERHADAP PROFITABILITAS BANK DI ASEAN DARI PERSPEKTIF GREEN BANKING
REZA ADITA ALDAMA

Universitas Jenderal Soedirman

ELIADA HERWIYANTI

Universitas Jenderal Soedirman

KIKY SRIREJEKI

Universitas Jenderal Soedirman
Keywords:
Profitability, reputation, Tobin's Q, CSR
Abstract
Indonesia terjadi fenomena dimana kewajiban pelaporan CSR berdampak pada tingkat pelaporan CSR (kuantitas) yang tinggi, tetapi tidak diikuti dengan pengungkapan CSR yang luas (kualitas). Hal ini tentu tidak selaras dengan adanya kebijakan yang mewajibkan adanya pengungkapan CSR bagi perusahaan publik di Indonesia, Thailand, dan Singapura sejak tahun 2012, 2014, dan 2017. Penelitian ini bertujuan untuk mengetahui perbedaan luas pengungkapan CSR (CSRD) di Indonesia, Singapura, dan Thailand dan juga dampak CSRD dengan reputasi sebagai mediasi terhadap profitabilitas bank di ketiga negara tersebut. Populasi dalam penelitian ini adalah bank yang terdaftar di Bursa Efek Indonesia, Bursa Efek Singapura, dan Bursa Efek Thailand pada tahun 2017. Jumlah sampel dalam penelitian ini adalah 50 bank. Berdasarkan hasil analisis data, disimpulkan bahwa: (1) Terdapat perbedaan CSRD di ketiga negara, (2) CSRD tidak berpengaruh terhadap reputasi (Tobin's Q), (3) Reputasi berpengaruh positif terhadap profitabilitas (ROA), dan (4) Reputasi tidak memediasi pengaruh CSRD terhadap profitabilitas karena CSRD tidak berpengaruh terhadap reputasi.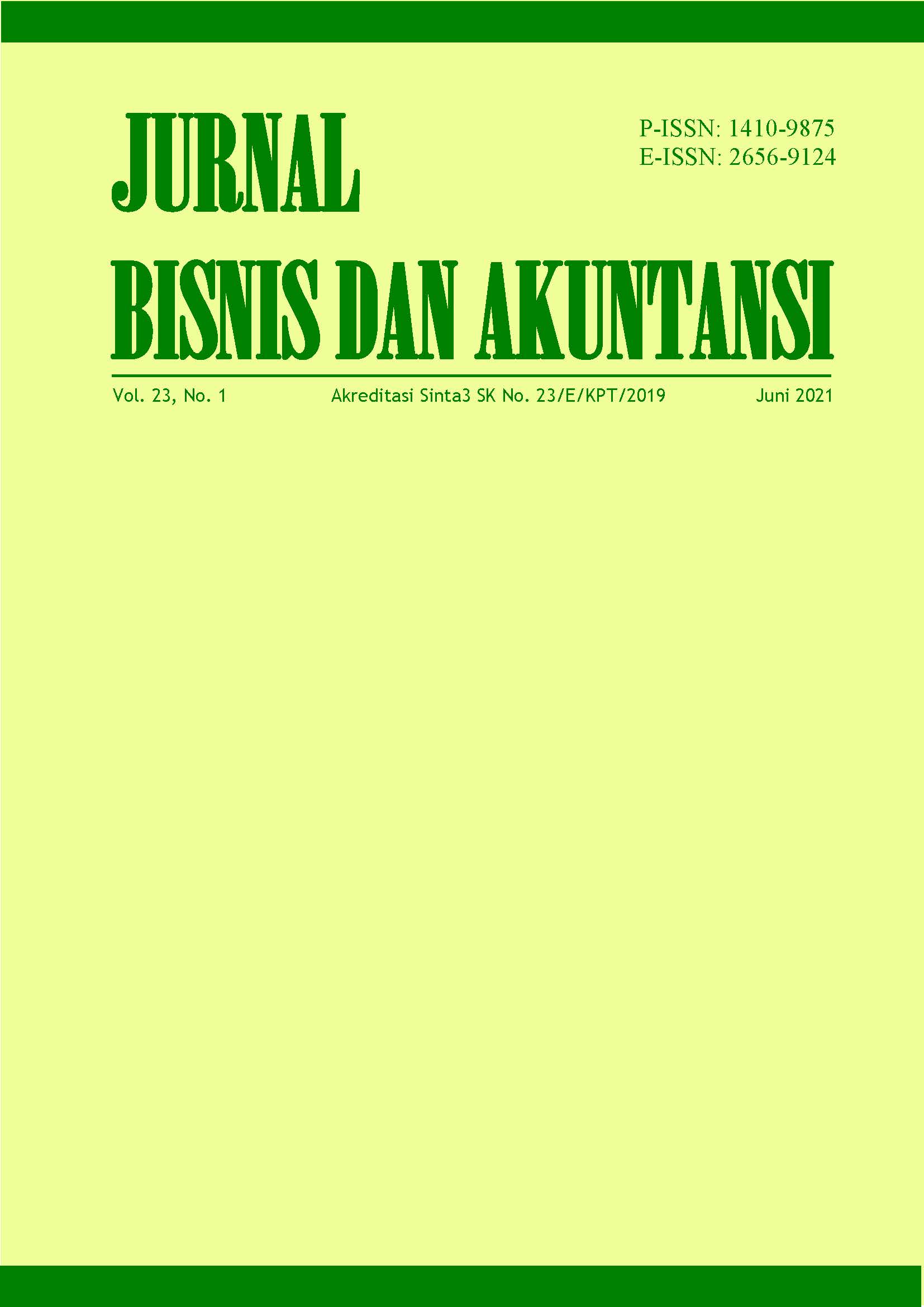 How to Cite
ALDAMA, REZA ADITA, ELIADA HERWIYANTI, and KIKY SRIREJEKI. 2021. "PERAN MEDIASI REPUTASI PADA HUBUNGAN PENGUNGKAPAN CSR TERHADAP PROFITABILITAS BANK DI ASEAN DARI PERSPEKTIF GREEN BANKING". Jurnal Bisnis Dan Akuntansi 23 (1), 49-64. https://doi.org/10.34208/jba.v23i1.775.
Copyright of Jurnal Bisnis dan Akuntansi
The copyright to this article is transferred to Jurnal Bisnis dan Akuntansi (JBA) and Pusat Penelitian dan Pengabdian kepada Masyarakat (P3M) Sekolah Tinggi Ilmu Ekonomi (STIE) Trisakti if and when the article is accepted for publication. The undersigned hereby transfers any and all rights in and to the paper including without limitation all copyrights to JBA and P3M STIE Trisakti. The undersigned hereby represents and warrants that the paper is original and that he/she is the author of the paper, except for material that is clearly identified as to its original source, with permission notices from the copyright owners where required. The undersigned represents that he/she has the power and authority to make and execute this assignment.
Each manuscripts that submitted must include declaration by authors
We declare that this paper has not been published in the same form elsewhere.
Furthermore, I/We hereby transfer the unlimited rights of publication of the above mentioned paper in whole to JBA and P3M STIE Trisakti. The copyright transfer covers the right to reproduce and distribute the article, including reprints, translations, photographic reproductions, microform, electronic form (offline, online) or any other reproductions of similar nature.
The corresponding author signs for and accepts responsibility for releasing this material on behalf of any and all co-authors. This agreement is to be signed by at least one of the authors who have obtained the assent of the co-author(s) where applicable. After submission of this agreement signed by the corresponding author, changes of authorship or in the order of the authors listed will not be accepted.
Retained Rights/Terms and Conditions
Although authors are permitted to re-use all or portions of the Work in other works, this does not include granting third-party requests for reprinting, republishing, or other types of re-use.
Our Articles are licensed under CC BY-SA

Publications are distributed below Lisensi Creative Commons Atribusi-BerbagiSerupa 4.0 Internasional.