IMPACT COVID-19 TERHADAP RENTABILITAS BANK PERKREDITAN RAKYAT KONVENSIONAL DI KABUPATEN SUKOHARJO
POERNANINGRUM SEKAR WARDHANI

Sekolah Tinggi Ilmu Ekonomi Surakarta

ISMUNAWAN ISMUNAWAN

Sekolah Tinggi Ilmu Ekonomi Surakarta
Keywords:
Bank perkreditan rakyat, financial ratios, rentability, covid-19
Abstract
The purpose of this study was to determine the effect of the Covid-19 pandemic as measured using the ratio of NPL (Non Performing Loan), BOPO, LDR (Loan Deposit Ratio), and NIM (Net Interest Margin) as independent variables on rentability measured using the ROA (Return) ratio. on Assets) as the dependent variable on conventional rural banks in Sukoharjo district. The study population was 16 BPR registered with the Financial Services Authority. From this population, 12 samples were taken that met the criteria of the purposive sampling technique. The object of research is the BPR quarterly financial reports for 2019-2020, which consist of 4 quarters in 2019 and 3 quarters in 2020. Data collection techniques use indirect observation, which is to collect financial report data through the official website www.ojk.go.id. Quantitative methods with secondary data are the methods used in research. Data analysis used multiple linear regression with SPSS 19 application. This study resulted that the NPL, LDR, and NIM variables partially did not have a significant effect on ROA, while BOPO partially had a significant effect on ROA. However, if simultaneously the four independent variables have a significant effect on ROA.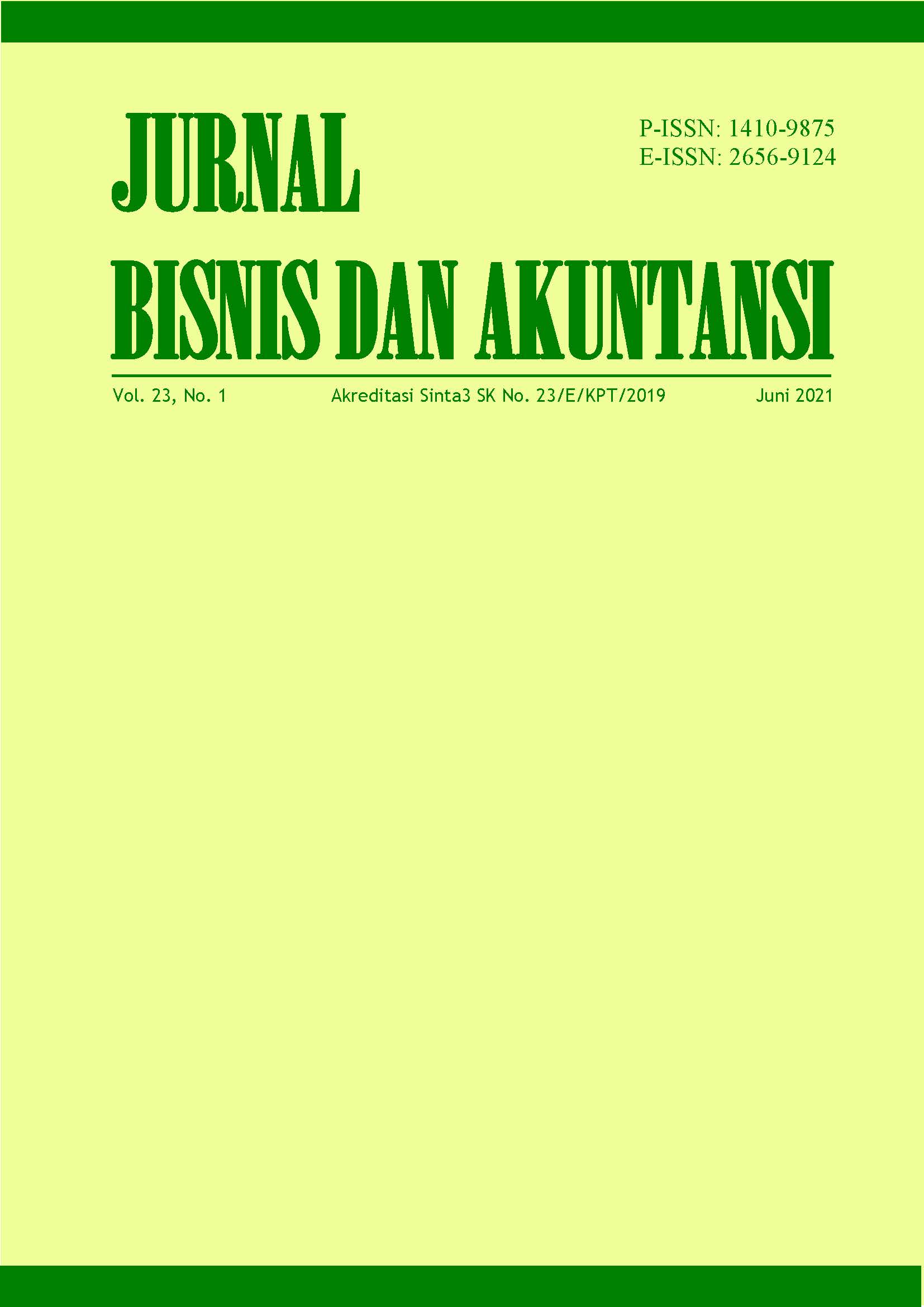 How to Cite
WARDHANI, POERNANINGRUM SEKAR, and ISMUNAWAN ISMUNAWAN. 2021. "IMPACT COVID-19 TERHADAP RENTABILITAS BANK PERKREDITAN RAKYAT KONVENSIONAL DI KABUPATEN SUKOHARJO". Jurnal Bisnis Dan Akuntansi 23 (1), 165-78. https://doi.org/10.34208/jba.v23i1.927.
Copyright (c) 2021 Jurnal Bisnis dan Akuntansi
This work is licensed under a Creative Commons Attribution-ShareAlike 4.0 International License.
Copyright of Jurnal Bisnis dan Akuntansi
The copyright to this article is transferred to Jurnal Bisnis dan Akuntansi (JBA) and Pusat Penelitian dan Pengabdian kepada Masyarakat (P3M) Sekolah Tinggi Ilmu Ekonomi (STIE) Trisakti if and when the article is accepted for publication. The undersigned hereby transfers any and all rights in and to the paper including without limitation all copyrights to JBA and P3M STIE Trisakti. The undersigned hereby represents and warrants that the paper is original and that he/she is the author of the paper, except for material that is clearly identified as to its original source, with permission notices from the copyright owners where required. The undersigned represents that he/she has the power and authority to make and execute this assignment.
Each manuscripts that submitted must include declaration by authors
We declare that this paper has not been published in the same form elsewhere.
Furthermore, I/We hereby transfer the unlimited rights of publication of the above mentioned paper in whole to JBA and P3M STIE Trisakti. The copyright transfer covers the right to reproduce and distribute the article, including reprints, translations, photographic reproductions, microform, electronic form (offline, online) or any other reproductions of similar nature.
The corresponding author signs for and accepts responsibility for releasing this material on behalf of any and all co-authors. This agreement is to be signed by at least one of the authors who have obtained the assent of the co-author(s) where applicable. After submission of this agreement signed by the corresponding author, changes of authorship or in the order of the authors listed will not be accepted.
Retained Rights/Terms and Conditions
Although authors are permitted to re-use all or portions of the Work in other works, this does not include granting third-party requests for reprinting, republishing, or other types of re-use.
Our Articles are licensed under CC BY-SA

Publications are distributed below Lisensi Creative Commons Atribusi-BerbagiSerupa 4.0 Internasional.